Advertisement (no affiliation with SIU-C)
CHICAGO FILMMAKERS ON THE CHICAGO RIVER, a documentary feature that examines the creative processes of Chicago moviemakers, is now available on DVD for only $15.00 at www.filmfoetus.com. It's loaded with bonus footage and a unique 3D stereo imaging effect.
The film stars Hollywood directors Andrew Davis, Michael Mann, Harold Ramis, John Landis, John McNaughton, Steven A. Jones, Stuart Gordon and Haskell Wexler. Chicago's best independent filmmakers are also featured:
Tom Palazzolo, Loretta Smith, Jerry Blumenthal, Gordon Quinn, Louis Antonelli, Katy Maguire, Ross Marks, Jim Sikora, Michael Dawson, Ayanna U'Dongo, Zeinabu Davis, Chris Ligon and Heather McAdams. Local film critics Gene Siskel, Roger Ebert, Ray Pride, and Dann Gire, are interviewed as well as Chicago Film Office Director Richard Moskal and the Honorable Richard M. Daley, Mayor of Chicago.
Using the city's famous river as a location, filmmaker D.P. CARLSON places filmmakers in a variety of boats and interviews them as they explore the river and share stories of how Chicago has influenced their careers.
The Chicago River comes to life as the artists float along the famous waterway, which is often photographed in films, but rarely featured as a continuous backdrop.
DVD FEATURES:
80-MINUTE RUNNING TIME
60-MINUTES BONUS FOOTAGE
DIRECTOR COMMENTARY
FILMMAKER BIOGRAPHIES & FILMOGRAPHIES
INTERACTIVE MENUS
PHOTO & ART GALLERIES
3-D VIEWING: CHICAGO FILMMAKERS ON THE CHICAGO RIVER was shot in Pulfrich 3D, which works when scenes move horizontally across a field of view. Revisit the film wearing 3D glasses (1 pair of pulfrich 3D glasses included.) You've never seen the Chicago River like this before!
3-D PHOTO GALLERY: Enjoy free-viewing (or cross-eyed viewing) twenty 3D stills. For example, here is one of them: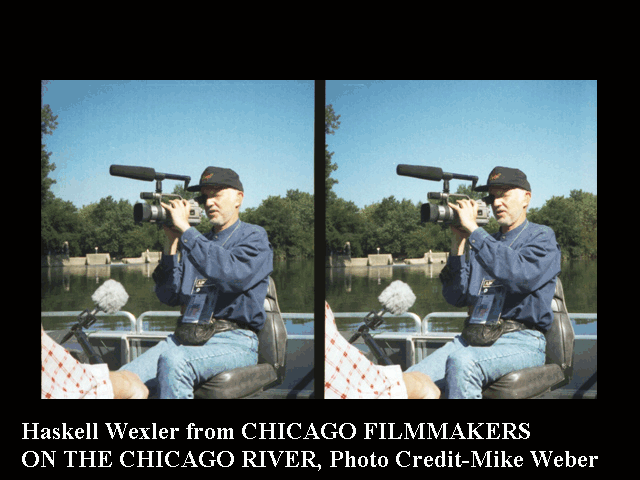 Back to Pulfrich Effect Home. University Privacy Policy

The Pulfrich Effect, SIU-C. Last updated 2004-04-17