---
The Pulfrich Effect: Lit (1978)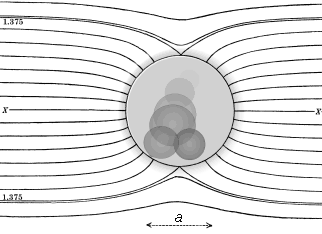 Lit, A. Spatio-Temporal Aspects of Binocular Depth Discrimination. pp. 396 - 424 in Frontiers in Visual Science (S. J. Cool and E. L. Smith III, Eds.). New York: Springer-Verlag, 1978.


Note: Permission to reproduce this paper has been withheld by the publisher, Springer-Verlag, Inc.

---
Abstract
by John Michael Williams, 1998. Placed in Public Domain.


The Mach-Dvorak effect causes an illusion of depth because of apparent motion of intermittent flashes differentially timed in the two eyes. As in the Pulfrich effect, the Mach-Dvorak effect may be studied by presenting a moving target binocularly to a human observer.

Whereas the Pulfrich effect may be explained in terms of intensity dependent latency, the Mach-Dvorak effect depends on apparent motion of brief glimpses of the target; the latency is in the stimulus presentation, not in the visual system.

There is no visual latency involved in the Mach-Dvorak effect, and the physically discontinuous target presentation makes it infeasible to combine (superpose) the Pulfrich latency so as to modify the Mach-Dvorak apparent depth reported by the observer.

However, varying the level of illumination differentially in the two eyes does change the magnitude of the Mach-Dvorak effect: A sufficiently long exposure duration allows the visual system localize the dimmer stimulus systematically differently than the brighter one.

The Mach-Dvorak illusion may be used to control for observer depth-localization bias, to study visual persistence, and otherwise to deepen the understanding of the visual system originally brought forward by the Pulfrich effect.
---
Back to Pulfrich Effect Home. University Privacy Policy

The Pulfrich Effect, SIU-C. Last updated 2000-07-23